We are always on the lookout for talented individuals to join our cast and crew. If you are not already a member you can find out more about what that entails on our Join us page. You can also find out what shows we have upcoming on our Shows page.
We are currently casting for: 
SHREK THE MUSICAL
Have you ever wondered just Who I'd be? Well This is How a Dream Comes True because it's time to let your Freak Flag  fly as COS are casting for Shrek the Musical being performed at the Mercury Theatre from Thursday 26th January 2023 to Saturday 4th February 2023.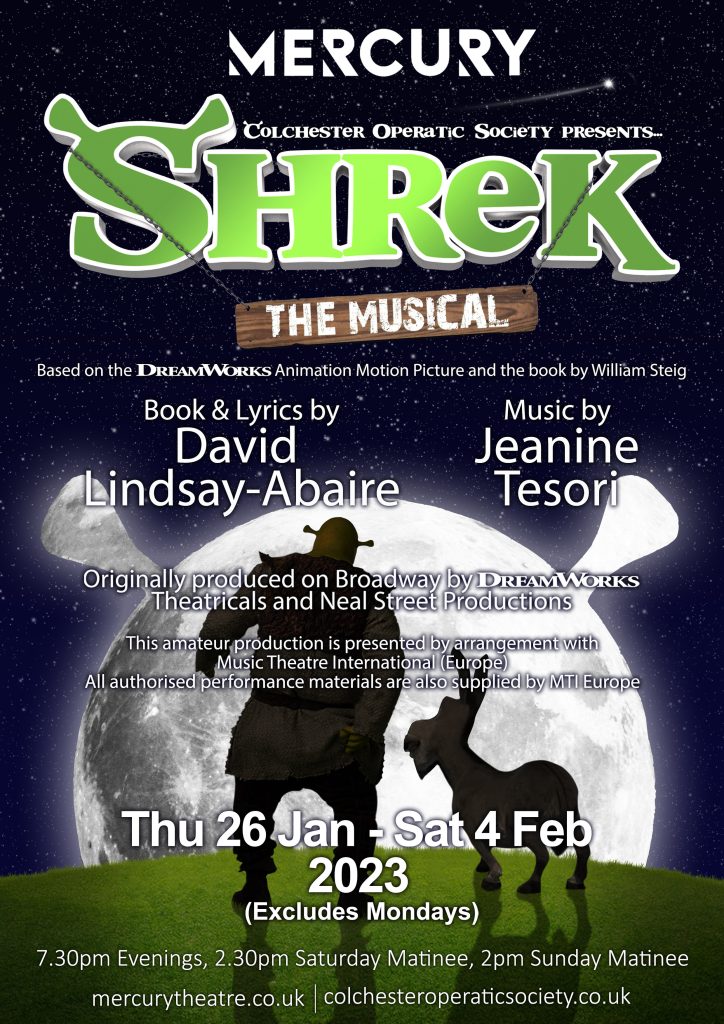 Set in a mythical "once upon a time" land, Shrek the Musical is the story of a large green ogre who, after being mocked and feared his entire life by anything that crosses his path, retreats to a swamp to exist in happy isolation.  Suddenly, a gang of homeless fairy-tale characters raid his sanctuary, having been evicted by the ruthless Lord Farquaad. So, Shrek strikes a deal to get their homes back, if they LEAVE HIM ALONE!! But when Shrek and Farquaad meet, the Lord strikes a deal of his own.  With the help of a hilarious talking donkey, Shrek sets off to rescue Princess Fiona from a tower guarded by a fire-breathing dragon, so she can marry Lord Farquaad.  Shrek finds something appealing, strange and different about this pretty princess. He likes her. A lot. But why does she always run off when the sun sets?
Auditions
You Must:

be a member to audition and be in the show.  It costs

just £10

(covering from 1st April to 31st March, due annually) and you can find out more information on joining our Society on our

Join us

page.

You Must:

register and complete an Audition Form in advance in order to attend the audition. To register and get an Audition Form or if you would like more information, please contact the society secretary (secretary@colchesteroperaticsociety.co.uk).

You Must:

be available to attend and perform in ALL performances plus the Dress & Tech rehearsals at the theatre, and a high level of attendance at all rehearsals is expected of anyone cast in the show.
When?:
Main Cast (Age 16 years and over)
Pre-audition workshops are on Monday the 11th and Thursday 14th of July 2022 at 7:30PM – 10.00PM. These are not compulsory but are really helpful to get to know what's involved, meet the team and learn and practice the audition pieces together.
Auditions are on Sunday 17th July 2022 10:00AM to 4:00PM. You will need to be available for the whole day, as we can not guarantee exact timings of everyone's auditions and you may be called back to audition for additional parts following your first audition, if the panel think you might be suited to a particular role.
Young Fiona and Young Shrek (For children Age 7-13 with playing age 7 years)
Chaperones will be in place during these workshops and auditions.
Pre audition workshops Monday 18th and Thursday 21st July 2022 at 7PM – 8.30PM
Auditions 24th July 2022 10:00AM to 12:00PM. You must be able to make this date and times in order to audition for these parts.
It is not compulsory to attend all of the workshops before auditioning, but we highly recommend you attend at least one so that you are suitably prepared for your audition.
Where?: All pre auditions and auditions at Philip Morant Dance Studio (Q theatre), Colchester, CO3 4QS.
Casting
All auditionees will be expected to sing a standard ensemble audition, read a piece of dialogue and complete a set movement/dance audition (this can be either a simple beginners/non-dancers audition piece or an audition piece for more experienced dancers).
Parts available are as follows:
4 main characters will be played by a single person each who will not double up roles in any way. They are:
SHREK (

guideline playing age of

25-45) (Male – High Baritone)
A big, green, terrifying ogre who lives alone in a swamp. He embarks on a journey to rid his land of
fairytale creatures and, along the way, finds an irritating friend and falls in love with Fiona. Begins as
a grumpy hermit, but reveals his layers and eventually becomes the hero. Excellent singer and actor.
PRINCESS FIONA (

guideline playing age of

20-30) (Female – Soprano/High Belter)
A beautiful princess rescued from a tower, she transforms into an ogre every night when the sun
sets. Rescued by Shrek and eventually falls in love with him. Quirky, blunt, and multi-talented, she is
not an ordinary princess. Excellent singer and actor with great comic timing; tap dancing is a plus.
DONKEY (

guideline playing age of

20-35) (Male or Female – High Baritone/Tenor or Alto with High Belt)
A talking donkey who joins Shrek on the run from Farquaad's guards, and subsequently on his
adventures. Donkey is irritating but lovable, easily frightened and pushy, but also an optimist with an
enormous heart. Excellent singer and comic actor with a huge personality.
LORD FARQUAAD (

guideline playing age of

30-45) (Male – High Baritone)
The comically short, ruthless ruler of Duloc. He is in search of a princess to marry so that he can
become king. He's outrageous, camp and the totally over the top villain of the story. He requires an
excellent singer and comic actor, who is able to play this role on his knees for the whole show.
The above parts will have their own dedicated auditions for singing and dialogue.
There are other characters who have featured singing auditions. These are:
PINOCCHIO (

guideline playing age of

20-40) (Male or Female – Falsetto Tenor or Soprano/Alto)
The leader of the fairytale creatures. Although portrayed by a live actor, Pinocchio is an animated
puppet whose nose grows every time he lies. Plenty of sass with a penchant for lying, he leads the
troupe of Fairytale Creatures in the musical numbers "Story of My Life" and "Freak Flag".
SUGAR PLUM FAIRY/GINGY (

guideline playing age of

20-40) (Female)
A gingerbread man initially kidnapped by Lord Farquaad. His wit and resolution help him both avoid
trouble and inspire the rest of the fairytale creatures. This character is portrayed with a puppet,
which will be voiced and operated by actor appearing as Sugar Plum Fairy. Comedic voice required.
DRAGON (

guideline playing age of

25-45) (Female – Soul type Alto with Big Belt)
A dragon that has been charged with guarding Princess Fiona in her isolated castle. It's a voice only
role fronted by a huge puppet figure. However, she might appear onstage as the front of the beast.
YOUNG FIONA (Age 7 – 13) (Female – Soprano with Strong Belt)
Princess Fiona as a little girl. Sings a solo in "I Know It's Today" with Teen Fiona and Fiona
TEEN FIONA (

guideline playing age of

14 – 20) (Female – Soprano with Strong Belt)
Princess Fiona as a teenager. Sings a solo in "I Know It's Today" with Young Fiona and Fiona.
There is no set dialogue for these characters, so they should prepare the ensemble dialogue piece.
The remaining cast include:
FAIRYTALE CREATURES (16+) (All have featured roles, whether with lines, solos, dances, or action)
Wicked Witch, Humpty Dumpty, Big Bad Wolf, Papa Bear, Mama Bear, Baby Bear, 3 Little Pigs, 3
Blind Mice, Ugly Duckling, Peter Pan, Shoemaker's Elf, White Rabbit, Mad Hatter, Fairy Godmother
etc.
ENSEMBLE CHARACTER ROLES (16+)
These include (but are not limited to) Young Shrek, Mama and Papa Ogre, King Harold and Queen
Lillian, Angry Mob, Happy People, Duloc Dancers, Captain and Guards, Thelonius the Executioner,
Knights, Dragon Singers, Pied Piper and Rats, Priest, Grumpy Dwarf.
To us, inclusion matters , so if you have any access requirement or need any extra support in order to participate please do let us know, and we will do our best to meet those needs, where reasonably possible.
Creative Team
Our creative team are:
Director – Adam Woodhouse,
Assistant Director- Laura Hicks; and
Musical Director – Neil Somerville.
Rehearsal Dates
Rehearsals start on Monday 18th September. We rehearse on Monday and Thursday evenings and some Sundays 10am-4pm (currently scheduled to be 9th Oct, 16th Oct, 30th Oct, 13th Nov, 27th Nov, 4th Dec, 8th Jan, 15th Jan and 22nd Jan).  All rehearsals will be at Philip Morant Dance Studio (Q theatre), Colchester, CO3 4QS. until 22nd January when we will be at The Mercury Theatre for Tech, Dress and performances.
Tech Rehearsal – Act 1 Sunday 22nd January 2023
Tech Rehearsal – Act 2 Tuesday 24th January 2023
Dress Rehearsal Wednesday 25th January 2023
Performances:
Thursday 26th January 2023 7.30pm
Friday 27th January 2023 7.30pm
Saturday 28th January 2023 2.30pm and 7.30pm
Sunday 29th January 2023 2pm (possible extra evening performance at 7pm)
Tuesday 31st January 2023 7.30pm
Wednesday 1st February 2023 7.30pm
Thursday 2nd February 2023 7.30pm
Friday 3rd February 2023 7.30pm
Saturday 4th February 2023 2.30pm and 7.30pm
Details of the full rehearsal dates will be included on the audition forms and information, which you will be sent or given access to once you have registered your interest.
If you are interested in getting involved in theatre, but not in the limelight there is a great opportunity behind the scenes!

You can find out more about the Backstage crew here