To us, Inclusion Matters!
We want to make sure everyone is able to access all aspects of our activities and are happy to discuss how we can support your individual circumstances and needs – please feel free to contact our Inclusion Lead on inclusion@colchesteroperaticsociety.co.uk.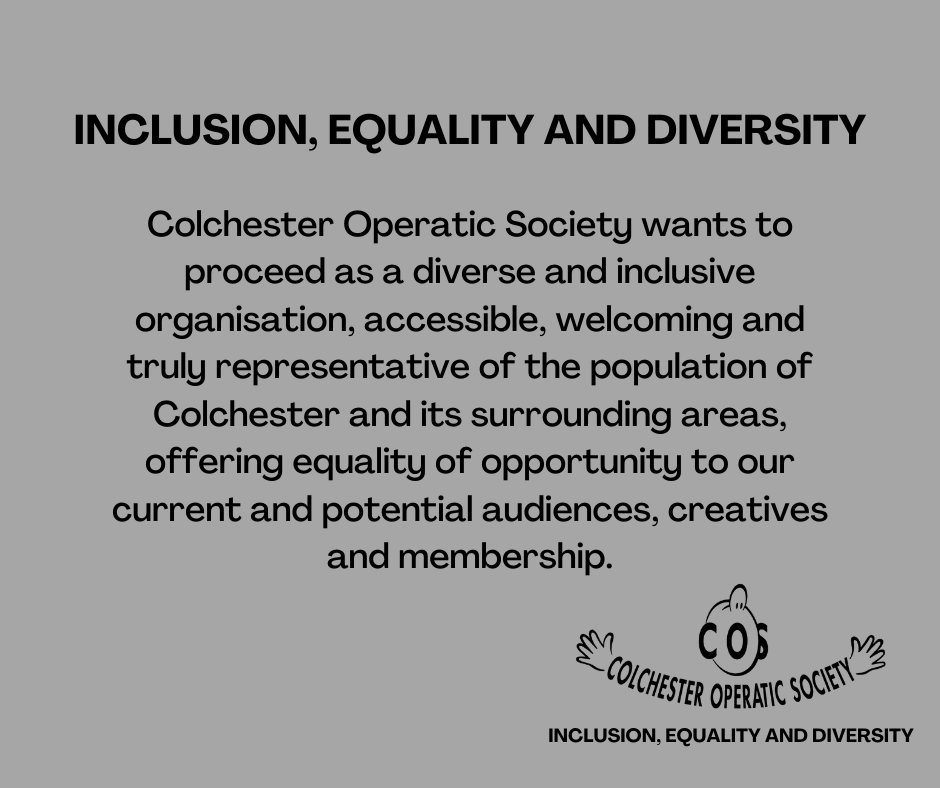 Colchester Operatic Society wants to proceed as a diverse and inclusive organisation, accessible, welcoming and truly representative of the population of Colchester and its surrounding areas, offering equality of opportunity to our current and potential audiences, creatives and membership.
The Creative Case. With a diverse membership, we will ensure the Society creates high-quality, engaging entertainment that is honest, reflective and rewarding for its audiences and membership. We recognise that diverse teams in all areas of our activity will ensure the Society continues to be effective, adaptive and resilient.
The Business Case. Since Colchester Operatic Society was formed over 90 years ago, audiences and society have changed and we want to reach the audiences and members of the future, recognising that our loyal supporters continue to expect best practice in diversity and inclusion.
The Moral Case. Creating a diverse and inclusive community of members and audiences has always been important to the Society. Therefore, we will continue to review and improve our processes and understanding to ensure best practice.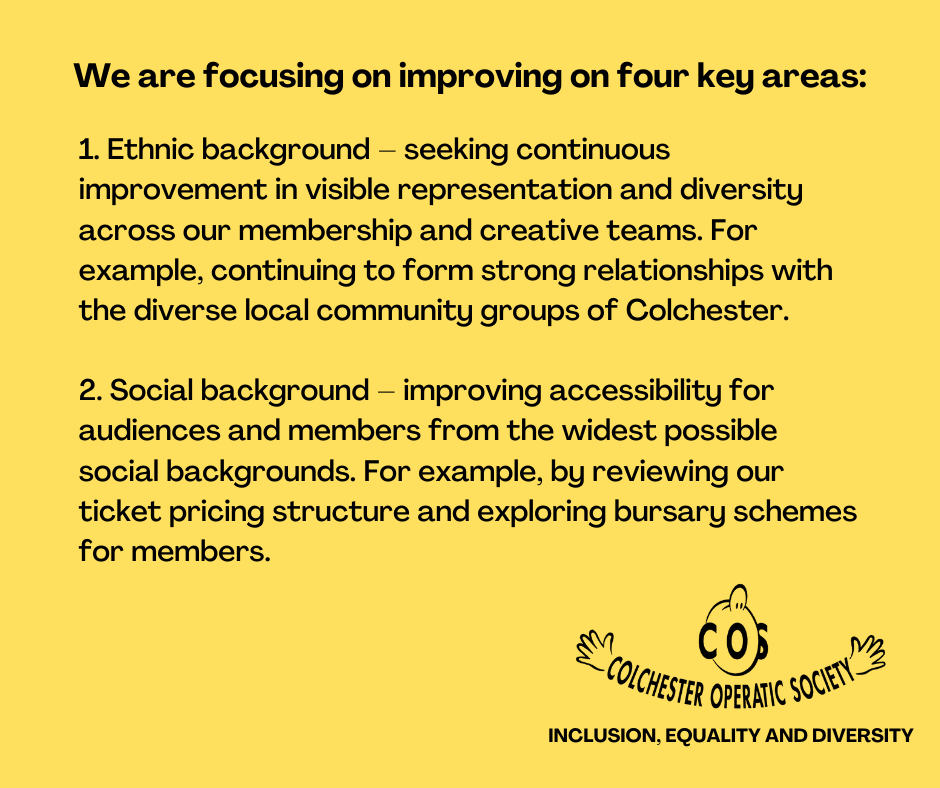 We are focusing on improving four key areas: 1. Ethnic background – seeking continuous improvement in visible representation and diversity across our membership and creative teams. For example, continuing to form strong relationships with the diverse local community groups of Colchester. 2. Social background – improving accessibility for audiences and members from the widest possible social backgrounds. For example, by reviewing our ticket pricing structure and exploring bursary schemes for members.
We are focusing on improving on four key areas: 3. Gender, Age and Physical appearance – ensuring these factors do not limit equality of opportunity across our membership and creative teams. For example, considering non-traditional casting decisions. 4. Disability - ensuring equality of opportunity, reaching wider audience groups and promoting accessibility to our rehearsals, events and productions whether onstage, backstage or offstage. For example, working closely with local venues to ensure accessibility where possible.
The plan is led by an Inclusion, Equality and Diversity Lead from Colchester Operatic Society Executive Committee and a team of appointed Equality & Inclusion Champions from all sub-committees and within specific areas of our Society and supported by advocates from both Colchester Operatic Society and CO2. Our Inclusion, Equality and Diversity Strategy sets out our long term aims and an action plan to support delivery over the next five years.
This statement of commitment to Inclusion, Equality and Diversity was published on our website on 7th August 2020 and updated on 13th May 2021. Our Inclusion, Equality and Diversity policy (updated October 2023) can be found on our policies page alongside a large print version (as well as large print versions of all our policies).
If you require any of our policies and documents in any other format please contact us.
Our Inclusion Lead is Becki Lee.