We're Back!
After a long period out of the spotlight, Colchester Operatic Society are thrilled to announce that we will be performing again for audiences at the revamped Colchester Mercury Theatre .  We are well known for producing professional quality shows and are excited to be back on the Mercury stage after performing Oliver! in collaboration with the Mercury in Autumn 2019 at The Mercury at Abbey Fields.
We are so excited to announce our next show, The Hunchback of Notre Dame, from 27th January – 6th February 2022 at the Colchester Mercury Theatre.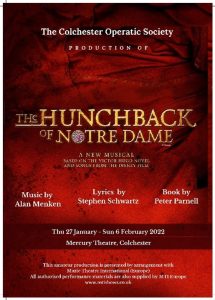 The Bells of Notre Dame
The Hunchback of Notre Dame is a musical based on the Victor Hugo novel and including the songs and Academy Award-nominated score from the Disney animated feature, along with new songs by Alan Menken and Stephen Schwartz.
The musical tells the story of Quasimodo, the bell-ringer of Notre Dame, who longs to be Out There with all of fifteenth-century Paris. Held captive by his devious caretaker, the archdeacon Dom Claude Frollo, he escapes for the day and joins the boisterous crowd at the Feast of Fools, only to be treated cruelly by all but the beautiful gypsy, Esmeralda. Quasimodo isn't the only one captivated by her free spirit, though – the handsome Captain Phoebus and Frollo are equally enthralled. As the three vie for her attention, Frollo embarks on a mission to destroy the gypsies – and it's up to Quasimodo to save them all!
 – Director & Choreographer: Adam Woodhouse  –  Musical Director: Neil Somerville  – Assistant Director: Laura Hicks –
Let Colchester Operatic Society sweep you away with the magic of this truly unforgettable musical as they perform this powerful story and fill the stage with beautiful choral harmonies.
It Takes Two…
Quasimodo is a big hearted but shy character who brings to life the bells and gargoyles of the Cathedral and becomes an unlikely hero in the story. We will be telling Quasimodo's story through two Counterparts:
-1 an acting/signing role for which for we have cast deaf actor Jestin Bartlett to lead us in the story using sign language; and
-2 a speaking/singing role. This role is fulfilled by actor, Sean Hynes, who will work alongside Jestin and sing the operatic score of the show.
Our two Quasimodos have been working brilliantly together to produce truly moving songs and scenes that bring the character alive on stage.
In addition to having the part of Quasimodo signed, we will also have the whole show fully signed on two performances – Saturday 29th January Matinee (2.30pm) and Thursday 3rd February 7.30pm.
PHOTO: JESTIN BARTLETT & SEAN HYNES ARE QUASIMODO.
CREDIT: SALLY PARKINSON
Jestin Bartlett (Quasimodo Signing Actor):
Since I found out that I was profoundly deaf I have found it easier to learn sign language through learning songs. I had always performed in theatre as a teenager but kind of stopped when I lost my hearing because not being able to hear full songs or everyone talking made it very difficult, so I got into circus performing – juggling, stilt walking and, fireshows. I have learnt most of the songs [for Hunchback] now, roughly, but as well as learning the words I have to learn the meaning behind them for the context of the show. Sean and I have got used to him speaking and me signing, although we do sometimes throw each other off as we are so intrigued with what the other one is doing. It feels quite powerful doing it.
Sean Hynes (Quasimodo singing/speaking Actor):
I'm part of a few groups near where I live in Basildon and have been since 2016, with my first lead part in Guys & Dolls. The thing we [Jestin and I] have to work on most is the emotional connection – I've got to tune in with him and he has to tune in with me. It is not something that I have ever done before. It's not like anything you've seen before so I think it will be interesting to be part of as well as interesting for an audience member.
God Help the Outcasts
As well as our Quasimodos we are excited to have cast some new faces, including Cally Kline as the bewitching Esmerelda, Keegan Featherstone as Clopin and some established COS actors, such as Wayne Setford as Frollo and Tom Pleasant as Captain Phoebus.
PHOTO: COS CAST OF THE HUNCHBACK OF NOTRE DAME.
CREDIT: SALLY PARKINSON
~This really is a show not to be missed!~
"…Loads and loads of stunning choral numbers…"
"…A truly touching story…"
Neil Somerville (Musical Director):
I am so excited to be MD for this beautiful show. The score of the original animated film is some of my favourite Disney music ever, and they have been enhanced by the many other songs written for this version. Loads and loads of stunning choral numbers plus amazing solo songs will be backed by a 12-piece orchestra of brilliant local musicians. MDing COS is always a joy and it's so good to be working alongside Adam & Laura again. This show is just what we need coming out of the pandemic for everyone involved in the production and those who come to see it.
Katie Cutmore (Chair of Colchester Operatic Society):
I'm really proud to be involved in producing this new and exciting musical for Colchester Operatic Society together with our fantastic and dedicated committee and production team. A truly touching story, which we want to sensitively portray with our inclusive casting. With our cast in place, including many new members to the Society, rehearsals have begun to bring the beautiful choral songs and story alive for the stage, to be enjoyed by our local audiences.  Watching our Quasimodo's perform "out there" together, blending sign language and song, at our first rehearsal was a truly special moment and audiences are going to be in for a truly amazing performance experience by the time we get to the stage! I am so pleased to be back working with the Mercury Theatre and making use of their brand new facilities to perform this production and excited to announce that we will have captioned and fully signed performances also.
The Hunchback of Notre Dame will be performed from Thursday 27th January until Sunday 6th February 2022 at The Mercury Theatre, Colchester with separate captioned and signed performances
Price: £15.00 – £22.00 (inc. £1.50 ticket levy)
For Press Enquires contact marketing@colchesteroperaticsociety.co.uk