We are always on the lookout for talented individuals to join our cast and crew. If you are not already a member you can find out more about what that entails on our Join us page. You can also find out what shows we have upcoming on our Shows page.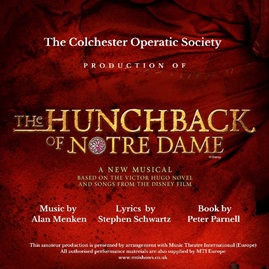 We are currently casting for:
The Hunchback of Notre Dame, a musical based on the Victor Hugo novel and incredible songs from the much-loved animated Disney classic, to the Colchester stage.
Following our successful auditions we are now looking for:
Stage crew

Props team

Costume lead
The production will run from 27th Jan-6th Feb 2022 at The Mercury Theatre, Colchester.
The

Evening performances at 7.30pm: Thurs 27

th

Jan, Fri 28

th

Jan, Sat 29

th

Jan, Tues 1

st

Feb, Wed 2

nd

Feb, Thurs 3

rd

Feb, Fri 4

th

Feb, Sat 5

th

Feb.

Matinees at 2.30pm: Sat 29th Jan, Sat 5th Feb.
Matinees at 3.00pm:  Sun 30th Jan, Sun 6th Feb.
*Backstage crew must also be available for the Technical rehearsal (25th Jan evening) and dress rehearsal (26th Jan evening) running into the performances dates.*
If you are interested in getting involved in theatre, but not in the limelight this is a great opportunity!
You can find out more about the Backstage crew here
Our creative team for this show is:
Director – Adam Woodhouse,
Assistant Director– Laura Hicks; and
Musical Director – Neil Somerville